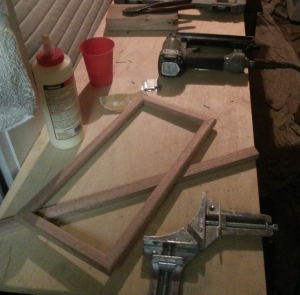 In early 2012 after months of searching, I bought a new car. The first thing to go was the dealership – branded license plate frame–they've taken plenty of my money, they didn't the extra free advertising. Naturally, I took to the internet…football team license plate frame? Cheesey.  Stainless steel? Unoriginal.  BMW frame? I think the BMW logo is prominent enough.
I've always been into woodworking–in fact, I had just bought a wood watch (check them out). Why not a WOOD license plate frame? After some extensive Google'ing, it became apparent that such a thing didn't exist. So it started. The first couple Wood License Plate Frames were a far cry from what you see today, but the design took shape quickly. From skinny pieces of Pine and flimsy plastic backings to thick planks of Teak and a sturdy a metal bracket.
The final product that you see today has come a long way and we'll continue to work on improvements and new variations, so come back soon!